---

This update comes a bit late, but oh well. Today brings some much needed updates to the trading and inventory gui.

Inventory Changes
Item names are no longer displayed over the item, you must mouse-over to see the item name.

Trade Changes
-Removed materials.
-More items can fit in the inventory part of the trading window.
-You are now alerted when the user is ready to trade.
-More explanatory buttons for beginners.
-Designed it to match colors of the F4 menu.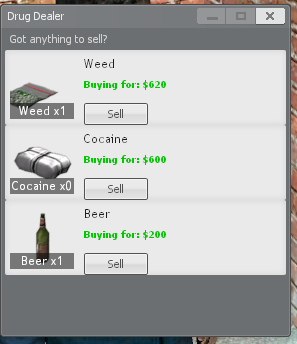 NPC's
Drug buying NPC's now buy beer.
Lag Fixes
I'm slowlying trying to resolve the lag issues. I've asked some users, and they are reporting less lag in-game now. Hopefully we can keep working on it.
That's about it. As always, report any problems below.