ThatDarkRPServer


From myself and everyone here at ThatDarkRPServer, we wish you a Happy New Year!

2017 came and went so fast, it's crazy. You know what else is crazy? This is my 7th Happy New Years post on ThatDarkRPServer. We've got to be breaking records at this point, right? 2017 was a real roller coaster of a year for us. We pretty much hit rock bottom, and then soared back up for much of the spring and summer. Player turnouts and development has slowed down again, but we're definitely working on those issues. Building a stronger staff team and providing more healthy updates are definitely on our New Years Resolution board.

Here's to a prosperous 2018 for ThatDarkRPServer!

Fireworks
For the next day or two, I have placed the seasonal fireworks addon on the server. There's several effects to choose from and play around with. Most of the fireworks should cleanup on their own after they've finished shooting, but if they don't, just press 'e' on them again or shoot them....​


From myself and everyone else here at ThatDarkRPServer, we wish you all a safe and Merry Christmas!

Man this year has flown by hasn't it? Its already Christmas! And TDRP is still here to celebrate it with you! Things looked pretty rough for a while, but we've made a comeback once again.

TDRP aside, enjoy the holiday. Spend it with family and friends. Eat some good food and exchange your gifts. When you're all done, hop on the server!​
Love,
Tim & Staff
A few adjustments today.

Weapon Crafting Changes
-Added back all of the enhanced and ruby infused weapons to the crafting station.
-Lowered the rarity tiers of the craftable knives.

Money Printers
We raised the printout rate on printers weeks ago for a double RP$ event, and we forgot to set the prices back down. Whoops. Printer rates have been changed.

There were a few more changes that were planned, but they weren't ready yet. Expect those changes in the next few days.

Police & Gang Territories
Gang territories that are captured by gangs can now be captured by Police classes. If the Police successfully capture a territory, all players that are in any of the Police classes will be rewarded with a split cut of the territory money. The territory will be set back to unowned.
Gang Money Reset
I know, I know, we're 10 days late. We were waiting to fix a small issue with the gang money distribution system. It should be fixed now. The gang money has finally been reset and ready for December.
Members of the gangs Leviathan, Jimbos, and Lucky Charms will receive a cut of their gang money. The money has been deposited in your bank account.
Here's the top 10 gangs of November:
Additional Territories
Since we were late getting this done, I have created two extra gang territories on the map. Those territories are Pond and Suburbs Extension.
Other Adjustments
-The...
​
December is here, and it's time to give out some gifts.
Throughout the month of December, you will be able to receive a gift every 24 hours from our Daily Christmas Present Box. A majority of the gifts will be standard weapons that can be purchased from gun dealers, but there is a chance of receiving some new goodies.
New Weapons Added:
-Toy Hammer
-Gold Toy Hammer
-Smoke Grenade Rocket
-Xmas Twin TMP's
-MG3 XMAS
-MK23 SOCOM
-AF2011A0
List of items that can be received from the gift box:
-Desert Eagle
-FiveseveN
-Glock 18
-HK USP
-FAMAS
-HK UMP45
-FN P90
-GS3G1
-Galil
-M249
-M3
-XM1014
-AWP
-Chain Grenade
-RPG Rockets
-Xmas Twin TMP's
-MG3 XMAS
-Firework Grenade
-Toy Hammer
-Gold Toy Hammer
-Smoke Grenade Rocket
-MK23 SOCOM
-AF2011A0
-SKULL 3(B MODE)
-RPG
Christmas Sale
Throughout the month of December, we've put our shop items on sale. Save even more by purchasing VIP or Donor Admin in 2 or 3 month...

​
Tomorrow will be the first of December, and we figured tonight would be the best time to re-introduce the holiday Christmas map. If you played last year, you will already be familiar with it. Things may seem a little bare at the moment, but don't worry, the staff team will start to decorate the map with holiday cheer this weekend.
Christmas Props
Along with the Christmas map, I've brought back a collection of Christmas themed props in the spawn menu to get creative with.
Santa
I've gone ahead and added a Santa Claus job. Use the job to spread Christmas cheer throughout the server.
Snowballs
Everyone will now spawn with a snowball weapon. Snowballs deal 1 damage point.


From myself and all of us here at ThatDarkRPServer, we wish you a very happy and safe Thanksgiving!
​
I gotta say, we're doing extremely well this year versus last year during this time. We're really making a comeback. I want to thank all of our new staff members for rising up and helping us rebuild. Without their time and dedication, we would still be struggling to keep a handful of players on.

We've got several projects in development, along with the suggestions forums active daily to continue improving our gameplay. Plus, Christmas is right around the corner, and the management team is gearing up for it. We're hoping to make it our most festive year yet!

TDRP aside, spend the day with your friends and family and enjoy their company. Think about what you're thankful for and eat delicious food until you pass out. If you don't plan on doing that or you aren't American, hunt some Thanksgiving Headcrabs or play Fire Mixtape in blackjack.

Love,
Tim...​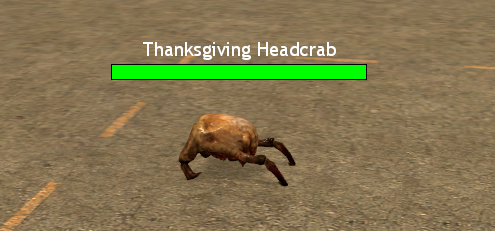 Thanksgiving is coming up, and that means it's time to hunt for the Thanksgiving Headcrab.
​
If you're unfamiliar with the Thanksgiving Headcrab, it's our best attempt at hunting for a turkey for Thanksgiving. The Thanksgiving Headcrab will spawn every 2 hours around the map. It's loaded with health and will take some time to kill. Once killed, there will be a chance of it dropping three new items. The firework grenade, a turkey leg, and a full turkey. The firework grenade is a new, fancy grenade with flashy effects and sounds. The turkey leg and turkey can be eaten for a quick boost in health and armor.
The Thanksgiving Headcrab will be around until early Friday morning.
K9 Police Dog
By community request, everyone wanted a dog class that was dedicated to the police force. I have gone ahead and added the "Police Dog" to the job selection menu.
Cat
Since the dog class has been loved so much, and with the addition of the Police Dog, why not have...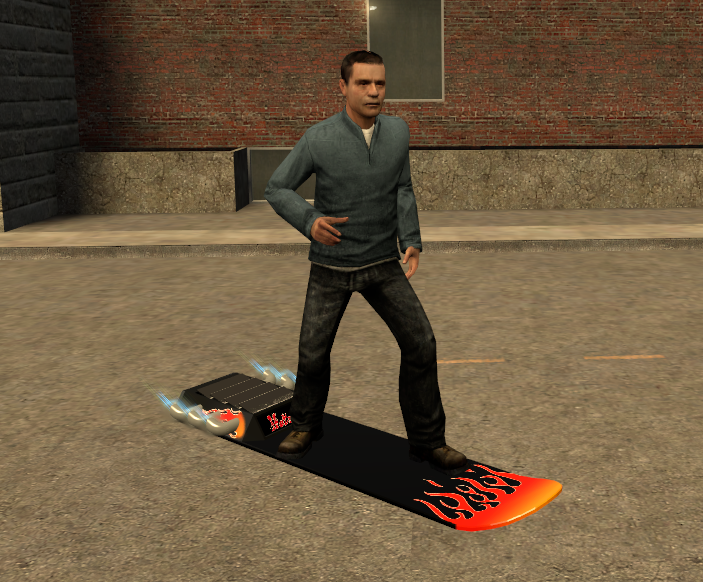 I'm happy to announce that our Hoverboard system has been completed.

Hoverboards
A few weeks ago, it was suggested that we bring back cars. We've tried it so many times, and it always fails. I'm not going to bother with it. Instead, I did some searching through the workshop and came across Hoverboards. I went ahead and had that addon tweaked and modified for us to use.

Hoverboards are purchased from the Hoverboard Dealer NPC located near spawn. The prices are high since Hoverboards are a permanent purchase. Think of Hoverboards as that new grind that players are looking to spend all of their hard earned RP$ on. Hoverboards start at $3 million. As a second option, Hoverboards can be purchased for credits. Credit prices have been set to match the value of RP$. 1 credit = 300k RP$. Several Hoverboards are also set for VIP+ members only as an added bonus of being a VIP member in the community.

At an additional maintenance cost, Hoverboards require fuel to run. You'll notice a...
A few new items to enhance the gameplay.

Traffic Police
I've noticed that everyone loves doing checkpoints and controlling pedestrian traffic while roleplaying. I thought we could enhance this a bit more by dedicated job with a few useful entities. The Traffic Police job has all of the same weapons as SWAT members, but also come with three new entities to help setup checkpoints and traffic control systems. There's now barriers, barrels, and traffic signs. Users can change the text of the traffic signs to whatever they want. Check them out by going Traffic Police in-game! The job will be for VIP members only, but this weekend I'll leave it open for everyone.

Bail NPC
We now have an NPC specifically for automatically paying a players bail and releasing them from jail. You can find the Bail NPC in the lobby of the police department. The cost of bail is $60 per second remaining of the jail timer.

Improved Stacker Tool
I went ahead and replaced our old stacker...