ThatDarkRPServer
After receiving a bunch of requests, we have decided to try a map change. Take this map change as a trial period, because in the past, map changes eventually hurt us.
RP_Downtown_V4C_V4
We're now running rp_downtown_v4c_v4, an extended version of rp_downtown_v4c_v2. Explore, tell us what you think of it. We noticed an FPS increase while playing today as well. All of the map entities should be where they used to be in the previous map. If anything's missing, go ahead and let us know below.
Zip Ties
By popular request, the old zip ties are back. You can purchase them from the Black Market Dealer NPC.
Drug Runners Buffed
Drug Runners will now make more money per run. Remember, the more players in the server, the higher the payout. The payout at 10 players vs 50 players is very different.
Day/Night Cycle
By popular request, we have reintroduced the day and night cycle to the server.
That's all for today.
Just a small and quick update for now. The community suggested to buff the Ruby Weapons because of their bad damage. Me and Tim decided to take action and change the damage of all four Ruby weapons.
Here's the list:
Ruby XM1014
Old:
Regular damage ~9
x8 = 72
, Headshot ~18
x8 = 144
New:
Regular damage ~12-15
x8 = 96-120
, headshot ~20-30
x8 = 160-240
Ruby Knife
Old:
Regular damage ~50, right click ~105
New:
Regular damage ~100, right click ~150
Ruby M4A1
Old:
Regular damage ~35, headshot ~70
New:
Regular damage ~45-55, headshot ~100
Ruby Infused Scout
Old:
Regular damage ~50, headshot ~100
New:
Regular damage ~50-80,...
So the back end of our gang system started acting up, and gang data was not saving correctly. This problem should be fixed now. I apologize for the repeated data loss for your gangs. If for some reason you're still experiencing problems, please reply to this thread.

As for other content today, expect a few more changes in a few hours. I'll update this thread when that content is live.

Weapon Changes
As discussed, I have modified a few of our weapons with special effects. Once we get your feedback, we'll slowly roll these out to more weapons and tweak damages.

-Elven Ranger - Bleeding Effect
The Elven Ranger now has a 20% chance of causing a bleeding effects to the victim. Not only will the victim lose health from the bullet, but the victim will also lose health for several seconds from bleeding.

-Tim's Super Soaker - Water Effect
Victims of the Super Soaker will receive a waterfall effect on their screen for several seconds, which will basically make them...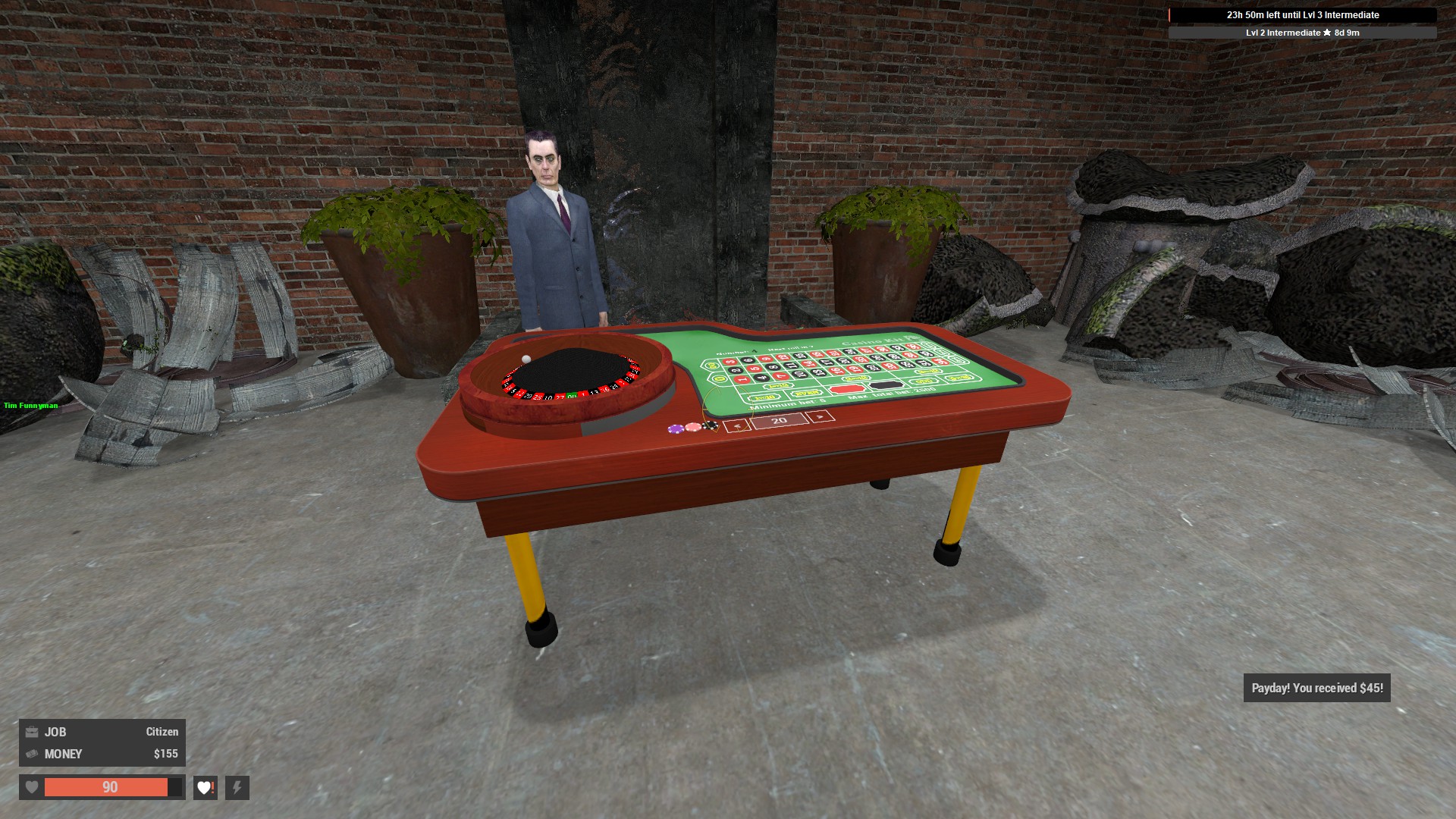 Nothing too crazy today, but a few fixes that needed to be addressed.

Gangs Wiped
Gangs have been wiped due to database corruption. This would explain all of the odd bugs with the gang system recently. You shouldn't have any problems now. There will be no gang refunds. Please do not steal gang names, you will be banned if you try to do so.

Roulette is Back!
Once a loved game in the Casino, Roulette is now back along with a revamp of the casino.

Fixes & Changes
-Uber Ghoster proof bases should no longer be possible. Let us know if it is.
-Fixed ammo reserves removing when dropping weapons.
-Fixed some chat messages.
-Increased limb damage in realistic damage system.
-Made it a bit easier to craft Ruby Keys.
-Made the Safe Spawn message not so ugly.
-Updated several public addons.
-Finally added Flooid's player model. My bad.
-Custom player models now cost $50.
I wanted to make this an official public announcement so that everyone is aware of some staff changes. I would like to welcome Tyrone Lattarius to the position of Server Manager. Over the past several months, Tyrone has proven that he is capable of handling the duties that are required to fulfill the position and steer the community in the right direction and keep the community alive.

As for Nota, he will be stepping down from his position as Server Manager. For now, he'll remain a member of our Management team. Like all of us do, Nota has become busy with his own personal life and he feels that he does not have the time to commit the attention that is required for Server Manager. Instead of becoming completely inactive like previous members do, he felt this was the best option for the community.

I personally would like to thank Nota for his endless commitment and dedication towards the community after being thrown into the Server Manager position so quickly. When most thought...
It's been almost a week since the crafting update and we have been listening to your ideas of ways to improve the experience and make the grind feel more enjoyable. Some of our responses to such proposals will take some time to implement so for now, we have some smaller recent updates to announce that will keep you busy in other areas of the role play experience until then.
Armory
Government classes now have access to more weapons in the armory. These also include Breaching Charges as well as Riot Shields.
Daily Bonus & Law Board
You may have noticed at spawn we have changed the gift box into a daily bonus for now. Once per day you will be able to open this box for a chance at a random weapon. The highest the rarity levels go on this is
Green
if you are extremely lucky. There is also a small possibility to find a
Loot Crate Key
inside. On another...


To all of our American players, Happy 4th of July!
From all of us here at ThatDarkRPServer, we would like to wish you a happy and safe 4th of July with your friends and family.
I had originally planned on throwing some novelty fireworks on the server for everyone to play with, but the holiday came too soon. Sorry! I'm sure you guys are too busy grinding for materials and crafting anyway
​
Love,
Tim


​
This has been anticipated for the last week or so, and it's finally now, here.
Welcome to our new Crafting system!
Crafting Station
Players now have the ability to upgrade gun dealer weapons using materials found through playing jobs such as Hobos, Lumberjacks, or Miners. Further recipes involve materials that aren't as common and may even require previous already crafted weapons to include in creating an even stronger final product. As of now, there is around a dozen crafting recipes and even more that will continue to be added over time!

Materials
You may have already noticed but Hobos now are able to collect unlimited amounts of Metal Scraps, Bolts, and Screws from Dumpsters along with the addition of Mahagony to the Lumberjack classes. Miners are now able to carry a maximum of 400 Iron Ore and 400 Gold Ore. Lumberjacks are able to carry a maximum of 400 Wood and 400 Mahagony. There is 1 other material called...
Over the last few days since our last update, we've added a bit more of additional content throughout this last weekend.

Adrenaline
A feature that many players had enjoyed was being able to utilize entities that influenced how much of the incoming damage they received would be able to affect them. Our new adrenaline feature allows a player that is quickly taking heavy amounts of damage to overfill their adrenaline threshold to experience a 15% reduction in all damage dealt towards them for 30 seconds. This is indicated by a sound as well as a notification in the player's chat that they have been affected by adrenaline. Regular users may proc this passive every 20 minutes while VIPs and above are able to proc this every 10 minutes when they have accrued enough damage to overfill it.

Events
As we continue to update the inner workings of our event system, we hope to include more refinement for the minigames within to keep...
Throughout late last night and early this morning up until now, we had a few changes made that Tim and myself had previously talked about.
Events
Management members are now able to use the command /eventnodrop that doesn't allow players to drop any weapons they pick up that have done /takeme to enter an event. This now opens up the possibility for players to test out rare weapons against each other during official events!
Gang Wars
Leaders and Co-Leaders of gangs are now able to declare war or accept offers for wars against enemy gangs. While within a war, enemies will be indicated with red text over their heads indicating they are an "ENEMY". To start a war, leaders of your gang and the gang you wish to war must agree to war each other. They are then able to KOS each other in the streets outside of the Safe Spawn. You may use "Start War" in the f6 menu as a leader or co-leader to initiate a war with another gang.
...