ThatDarkRPServer


From all of us here at That DarkRP Server, we wish you a Happy Easter!

I've decided that the Easter Egg hunt will end at 8pm CST today. Be sure to gather up as many eggs as you can! The eggs are currently respawning every 15 minutes. The prizes for first, second, and third place will be given shortly after the event ends.

Tomorrow morning the eggs will start to respawn every 10 minutes until the event ends.

​
Love,
Tim


​
​
From now until Easter Sunday, little Easter eggs will spawn all over the map every 30-60 minutes. When you find one, press 'e' on it to pick it up. The Easter eggs you find will be tallied. On Easter Sunday, the top three members in the community who found the most Easter eggs will receive a prize. The prizes will be:
First Place:
$50 Steam Wallet
Second Place:
$20 Steam Wallet
Third Place:
$10 Steam Wallet
To check to see how you're doing, type
/easterscore
in chat. This menu will list the top 26 players along with your current score.
Over the next few weeks, we're going to keep expanding the gameplay off of previous ideas used on TDRP1 and the TDRP2 project.
Farming & Hunger Mod
Several months ago, we created our own hunger system and integrated a farming system into it from scriptfodder with heavy modifications. Today, we're reintroducing these systems into the server.
Before you complain, please note that issues that were had with this system previously should be resolved. Hunger doesn't decrease rapidly, and there's potential profit from farming.
How does it work?
As a farmer, use your hoe to place planting plots on the ground. If you farm outside, the sun will be your light source. If you farm inside, you'll need a farming light. You will need plant seeds to farm. Find a Gardener NPC and purchase seeds from them. Once you have the seeds, go to your plant plot and press 'e'. This menu will allow you to plant the seeds into the plot. Now, all you have to do is sit back and watch the plant....
A quick update today from suggestions from players.

Wheel of Fortune
We've added a unique slot machine system to the server. Spin the button for a chance at winning up to $1,000,000 RP$! You can find it in the same building as the checkers and chess tables.

Report System
We're now using a unique report system on the server for a more organized, and easier method of reporting and catching rule breakers. To use it, type !report in chat.

Gang Classes
I've added a second set of Gangster and Mob Boss classes and renamed each group to Bloods and Crips. I'll find some gangster models later and add those to the classes.

Fixed Admin Permissions
Admins can now properly remove and physgun props.

That's it for now. If you have a suggestion, don't hesitate to post it in our suggestions forums!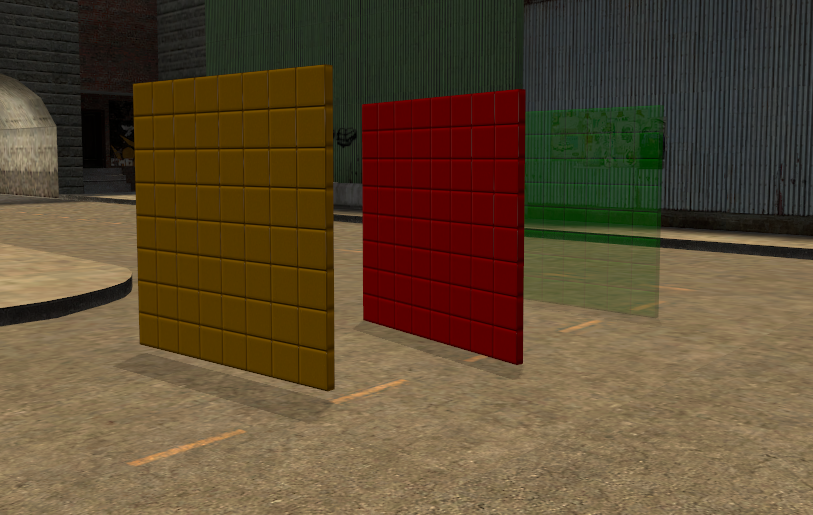 As discussed, I am officially launching the TDRP v6 pilot.
In this version of our server the following things are different:
-No player data was carried over.
-There's only one weapon pack, TFA.
-There are no private classes.
-The rules are more laid back.
-The staff will be a new designated team as we promote them.
-There's one rare currently, the Uber Ghoster.
-Removed the prop minge/property system.
Uber Ghoster
I didn't want RPG's and Super Ghosters. RPG's destroyed bases and created collision lag. Super Ghosters weren't balanced correctly. I thought of a twist, and that twist is the Uber Ghoster.
With the Uber Ghoster, it requires 3 shots within 30 seconds of each other before a player collision is disabled for 30 seconds. When you hit a prop, it will turn yellow. When you hit it a second time, it'll turn red. Hitting it a third time will make it turn green, letting you know you are able to walk through it. As soon as the colors go away, the collision is set...
Another update to spice up the gameplay.

Purge
After a few requests, I've decided to give purging a try. Instead of running an automatic script that runs every x hours, we're giving the power to the Mayor. As Mayor, just type /purge and a 3 minute countdown will begin to start the Purge. After the 3 minutes are up, the alarm will sound and the Purge will begin. The Purge will last 8 minutes. During this time, all RP rules are ignored. The /purge command has been limited to 1 use every hour.

Permanent Vending Machines
I have added permanent ammo vending machines to the map. This fixes the issue where players were unable to obtain ammo while there weren't any gun dealers on. The pricing on these machines are double the price compared to the vending machines spawned by gun dealers.

Removal of Cars (v2017)
The car dealer has been removed (again). It shouldn't hurt too many feelings since the map is so small for cars, and no one has been spawning any cars...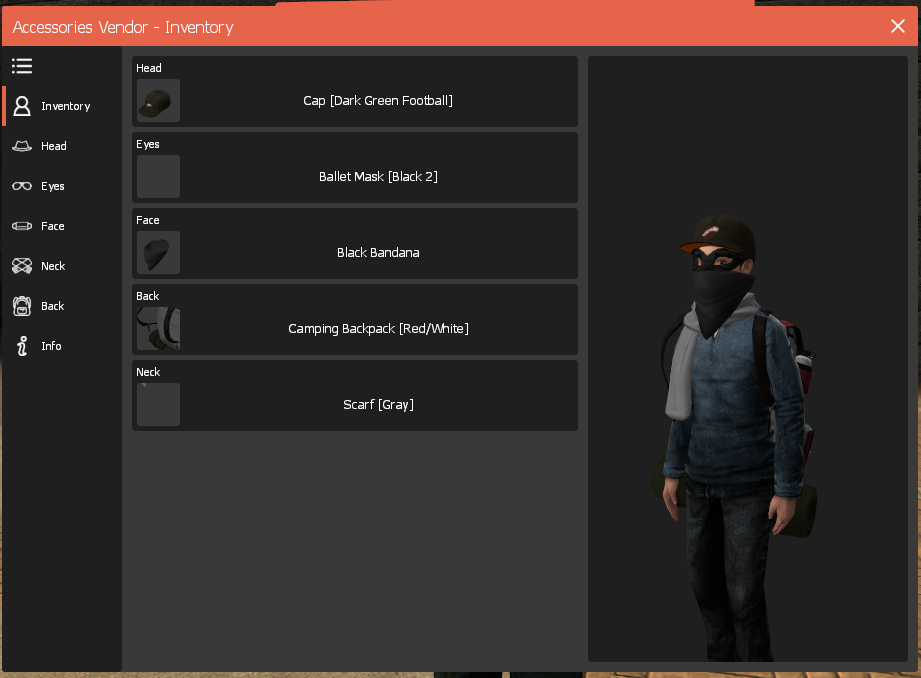 Today is the day that we finally add accessories to the server. I've been talking about it for a while now, and I'm happy to announce the project has been completed.

How does it work?
It's simple. Walk up to the Accessories Vendor near spawn. There, you'll be able to navigate through the many options of accessories you can add to your player model. Once you purchase an accessory, go to the 'Inventory" tab and select the accessory you wish to add to your player model. Accessories are permanent and are saved within the NPC.



Over time, we'll work more on adding unique items and items that can only be purchased during special holidays. For now, try it out and tell me what you think.

Report any problems below. We will be testing this system for Shendow, since he is currently adding this script to Scriptfodder.
A few adjustments after the previous update.

Fixes
-Reduced cost of money printer coolers to $50 for each printer. Battery prices have increased to balance this. Larger printer farms actually went negative in profits by the new effect of printer cooler lifespans decreasing when near other printers. This should fix that.

-Lowered the amount of suitcases that can be grabbed from the bank vault to prevent collision lag, but raised the max possible amount to $5,500. Overall, this has double the potential profit of raiding the bank vault.

-Donation box has been added to Nighclub Owner.

-Bong has been added to all RP Jobs. ( No Private Classes)

As always, report any issues below.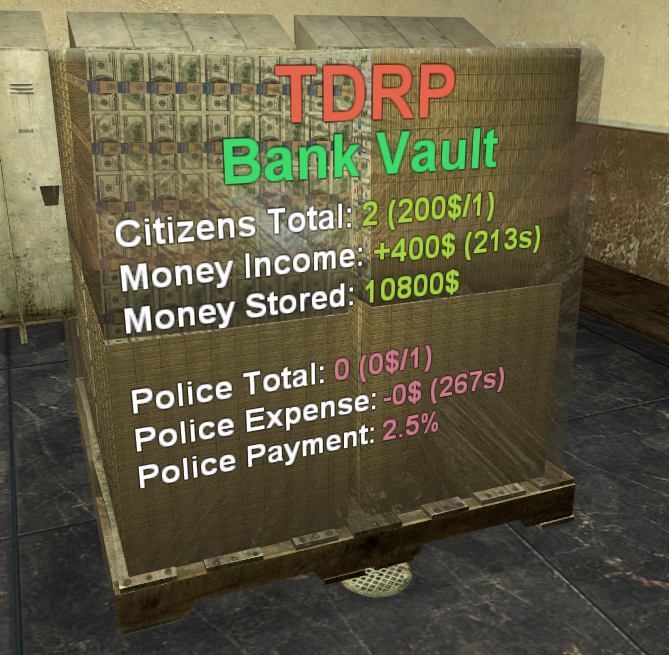 Bank Vault
We've added back a bank vault to the PD. This system is a bit more unique. To start a bank vault raid, you must become a Gangster, Mob Boss, Thief, Locksmith, or Combat EMT. Approach the Bank Vault entity and press 'e'. You'll begin the raid. Now, just keep tapping 'e' and you'll start seeing money and suitcases coming out of the vault. Each suitcase has a random amount of money inside of it. To take the money out of the suitcase, you must run be outside of the radius of PD. Once you're safely out of the radius, the suitcase will light up green. When it lights up green, you can take the money out of the suitcase. Bank vault raids require three CP members to be online. CP members will receive compensation for pressing 'e' on suitcases and returning stolen money. There's a 1-hour cooldown on raids.


Drug Purity
Both weed and meth now have a purity system. The higher purity of the product, the longer the effects last and the better the effects are. NPC's...

Today's update brings some much needed bug fixes. These fixes will prepare us for some future content we have planned.



Top Wealthiest Players
The top 10 wealthiest players are now displayed in the F4 menu dashboard.

Making Printer Farms Harder
Printer farms ruined the economy last time. People buying printers and just hoarding these huge warehouses of printers made RP$ worth nothing. Now that we're using the old printers, I want to prevent that from happening again. To do this, I've now made it so money printers will check to see if there's surrounding money printers in their proximity. If there is, the lifetime of the cooler will be cut depending on the number of money printers there are. The more printers in the surrounding area, the shorter the lifetime of the cooler. Realistically, this is to represent a hotter environment, making cooling harder.

Bug Fixes:
-Hits that are refused by the Hitman should now correctly refund the player.
-Ammo crates now...