ThatDarkRPServer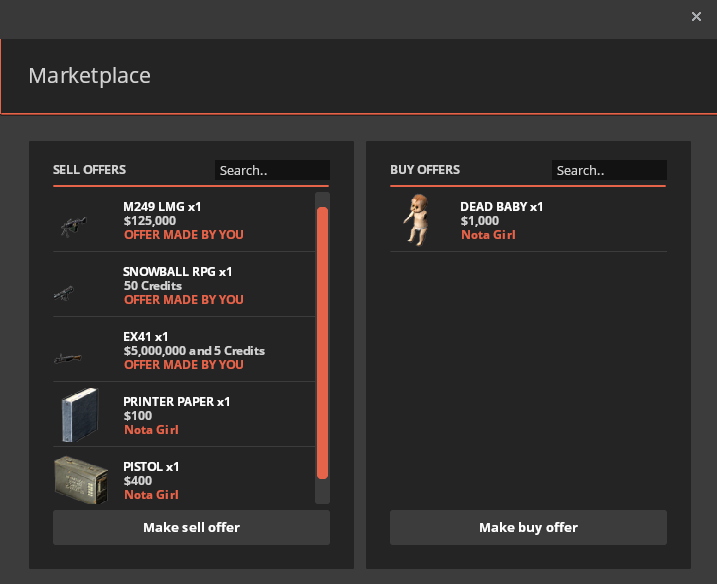 Our last update of 2016, and it's a big one.
Marketplace
Instead of players spamming /adverts and creating forum threads to sell their items, we now have an in-game Marketplace. Within the marketplace, players are able to sell their items for RP$ or credits. They are also able to create request offers for items they are currently seeking to buy. Listings are only active if the owner of the listing is online in-game. Once you disconnect, your listing will be hidden from the Marketplace until you return back online. There's currently a 5 listing limit on non-VIP members, and a limit of 10 for VIP members. To access the Marketplace, find the tab in the F4 menu.
Car Damage & Mechanic
Car damage is now active. Once your car reaches 0% health, it will ignite and can no longer be driven. To fix this, find a...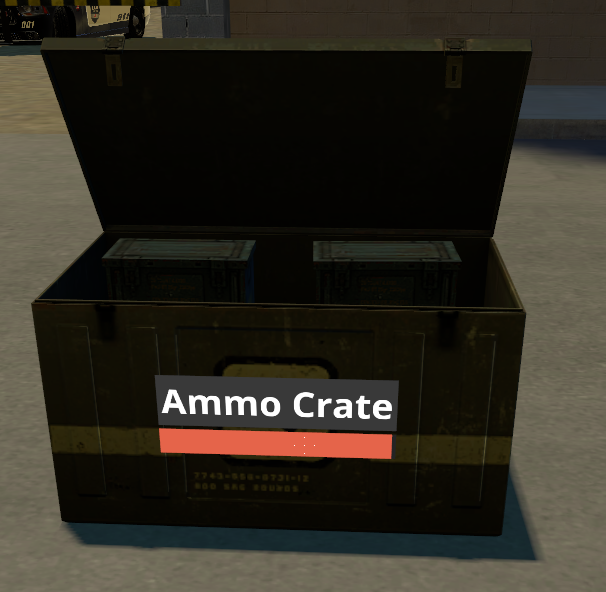 We're approaching 6 years as a community dedicated to a single DarkRP server. To keep things entertaining and alive, we have been continuously creating, modifying, and removing content. For the content that is removed, though, it's not always entirely removed. For example, the pills vendor. The pills vendor was removed several weeks ago, but the pills that were purchased are still in circulation. Same with old drug entities and other miscellaneous items. Now that we're aiming to revamp the gameplay and freshen things up, I feel now is the time to finally get rid of these items for good. There's no way for us to keep a fair and balanced gameplay with all of these old items still available to use. Let's be honest here, these items were never used anyway because everyone considers them rare.

Today, the following items have been removed:
-All old drug making entities.
-All old drugs except for the current rp_meth and rp_weed entities.
-All pills.

These items will remain in...
Now that Christmas is out of the way, it's time to switch over to our new map we've been talking about. RP_Rockford_v2b is a massive map with a ton of potential for RP. It's becoming a popular choice among serious roleplay servers and DarkRP servers. Now that cars are back, we need a lot of space to enjoy them. This map will provide that for us.
You shouldn't need to do anything to download the map. When you join the server, you will download the map and map resources. If for some reason you do run into problems, here's a link to them:
Map:
http://steamcommunity.com/sharedfiles/filedetails/?id=622810630
Map Content:
http://steamcommunity.com/sharedfiles/filedetails/?id=328735857
Let me know what you think!

From myself and everyone here at ThatDarkRPServer, we wish you a Merry Christmas!​
Another Christmas celebrated here at ThatDarkRPServer. The Christmas Box has became one of the most popular seasonal events. Everyone's always asking about it. Every year, hundreds of players rush onto the server within a small time frame and try their luck at the Chirstmas Box. Most leave with a box of chocolate, while a select few leave with something as mighty as an Orbital Strike.
This year, I've done something different. The Christmas Box is filled with our normal popular rares and useful items, but along with that, there's a whole new selection of collectible weapons in it. I've removed most of the common M9K weapons and have replaced them with those collectibles. These weapons will never go on sale in the /shop, and will only be obtainable from this Christmas Box. In total, there are 9 new weapons that will be added. As for the current possible rares, any rare that was...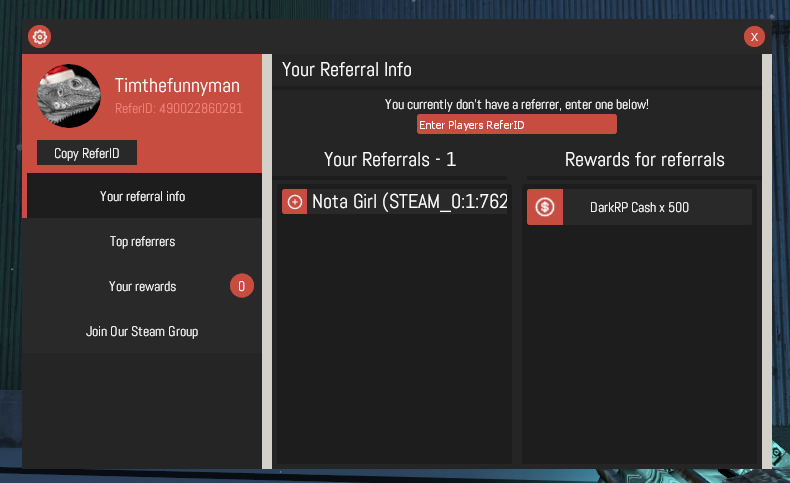 Just a small update today.

Steam Groups & Referrals
When players join the Steam group, they will be rewarded $5,000 RP Cash. If a player was referred by someone, they can add who referred them. The referral will then be rewarded for this in RP Cash. Type !refer in chat to bring up this menu.

Changes:
-You are no longer able to shoot while being tased.
-Donoradmins are no longer able to ban staff members.
-When gangs lose a command center, the amount of money they have to pay to respawn it will depend on how many members are in the gang. For example, if a gang has 5 members, it'll pay $5,000. If a gang has 15 members, it'll pay $15,000. Every member is worth $1k.
-Removed rPhone.
​
Tomorrow, Friday the 23rd, Santa will be visiting TDRP. He will hop on the server for small game events and gift giving. He's expected to land on a rooftop near the town Christmas Tree around 7-8pm CST.​
Be there!​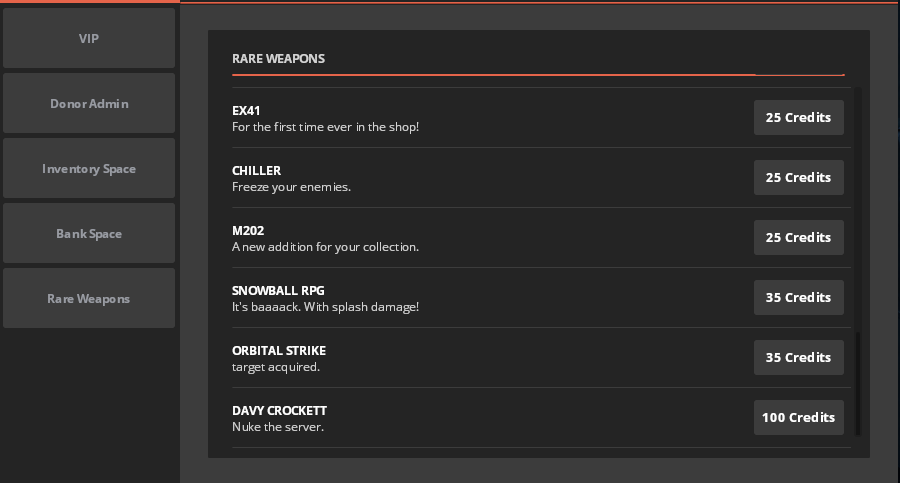 ​
It's that time of the year again. To complete our full list of Christmas sale items, I have added some of the most popular rares of the year to the /shop. Pick them up while you can!
M202 & EX41
For the past few years, these rares never found their way to the shop. For the first time ever, you can now pick them up.
Snowball RPG Change
-Reload timer reduced from 30 seconds to 5 seconds.
-Snowball's now have a splash damage radius.
Gang Command Center Update
-Removed buff radius on command center. Buffs are now given across the whole map.
-Added faster keypad cracking buff.
-Added faster money printing buff. (1 minute faster)
-Gangs who lose their command center will be required to pay a $10,000 penalty to be able to spawn another.
-If a gang owes money for their command center, then no one inside of that gang can leave/disband the gang until the debt is paid.
-Gang officers now have the option to remove their command center. Once the...
Over the past few weeks to months, gang raiding/basing has gone down in popularity. With recent updates, we've removed a lot of its purpose for even wanting to do it.
Today, it's time to make bring back its purpose. I've been working on this idea for the past few days, and this should be the start of something good.
I'm calling them
Gang Command Centers
. Now, when gangs are playing/basing, they will be required to spawn a Command Center. Gang owners and officers can spawn them from the gang menu. The Command Center should be located as your home of operations. Once spawned, the only way it can be removed is if it is captured by rival gangs. If a gang does not have gang command centers spawned, it will not be able to participate in command center captures or territory captures. If this isn't enough to enforce their use, I'll continue adding restrictions.
How does it work?
When a rival gang is ready...
​
From now until January 3rd, nearly everything for private classes will be on sale as part of our yearly Christmas Sale. There's a ton of good deals, so pick them up while you can!
A quick overview over some of the popular options:
$50
$40
for a class with a name of your choosing, a color of your choosing, and a default model of your choosing.
$40
$25
per additional player slot
$10
$5
- Extra default Garry's Mod model onto class
$150
$100
- Custom model from the Steam Workshop.
$40
$20
- Change ownership of a class.
$25
$20
- Spawn with a SMG of your choice.
$30
$20
- Spawn with an Assult Rifle of your choice.
$35
$25
-...​
As promised, we're going to introduce some new elements to the server.
Safety Deposit Box
Now that drug making and printing farming require inventory items, we have decided to create a second inventory system to store items that you aren't using on a regular basis. Everyone now has the ability to move their items to an item bank. We're calling it a safety deposit box. Normal users have 30 item slots, while donors and VIP members have 50 slots.
Tasers
Tasers are back again for all Civil Protection and SWAT classes. We had a lot of issues with tasers in the past, but this one, suggested by, Locosuperz, should solve most of those past problems. When tased, players will be frozen in place flailing their arms around. No more ragdolls. Tasers will allow Police classes to forcefully stop players and arrest them.
Chop Shop
If you played TDRP2, you were familiar with the chop shop. If you aren't...