ThatDarkRPServer
A few adjustments after the previous update.

Fixes
-Reduced cost of money printer coolers to $50 for each printer. Battery prices have increased to balance this. Larger printer farms actually went negative in profits by the new effect of printer cooler lifespans decreasing when near other printers. This should fix that.

-Lowered the amount of suitcases that can be grabbed from the bank vault to prevent collision lag, but raised the max possible amount to $5,500. Overall, this has double the potential profit of raiding the bank vault.

-Donation box has been added to Nighclub Owner.

-Bong has been added to all RP Jobs. ( No Private Classes)

As always, report any issues below.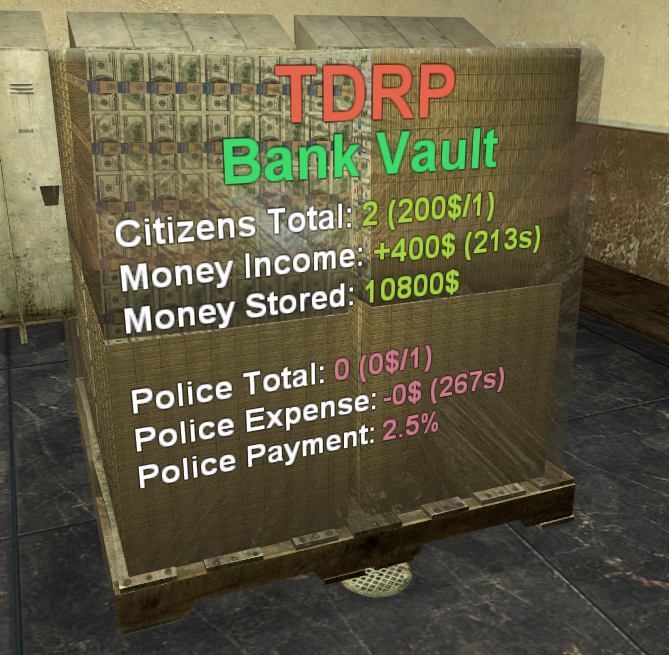 Bank Vault
We've added back a bank vault to the PD. This system is a bit more unique. To start a bank vault raid, you must become a Gangster, Mob Boss, Thief, Locksmith, or Combat EMT. Approach the Bank Vault entity and press 'e'. You'll begin the raid. Now, just keep tapping 'e' and you'll start seeing money and suitcases coming out of the vault. Each suitcase has a random amount of money inside of it. To take the money out of the suitcase, you must run be outside of the radius of PD. Once you're safely out of the radius, the suitcase will light up green. When it lights up green, you can take the money out of the suitcase. Bank vault raids require three CP members to be online. CP members will receive compensation for pressing 'e' on suitcases and returning stolen money. There's a 1-hour cooldown on raids.


Drug Purity
Both weed and meth now have a purity system. The higher purity of the product, the longer the effects last and the better the effects are. NPC's...

Today's update brings some much needed bug fixes. These fixes will prepare us for some future content we have planned.



Top Wealthiest Players
The top 10 wealthiest players are now displayed in the F4 menu dashboard.

Making Printer Farms Harder
Printer farms ruined the economy last time. People buying printers and just hoarding these huge warehouses of printers made RP$ worth nothing. Now that we're using the old printers, I want to prevent that from happening again. To do this, I've now made it so money printers will check to see if there's surrounding money printers in their proximity. If there is, the lifetime of the cooler will be cut depending on the number of money printers there are. The more printers in the surrounding area, the shorter the lifetime of the cooler. Realistically, this is to represent a hotter environment, making cooling harder.

Bug Fixes:
-Hits that are refused by the Hitman should now correctly refund the player.
-Ammo crates now...
After listening to the community suggestions over the past few weeks, the management team has come together tonight to release this update.

The Return of the Old Printers
We've received a lot of dislike for our current printers, so we have decided to roll the printers back to the old system, rPrint. There is now a basic printer and gold printer for VIP+ members. Players are now able to steal each others printers again. Max spawned printer limit is still 2.

Prop Spawning Restrictions
I have added an anti prop minge system to the server to prevent the annoying props laying outside all over the map. How does it work? To spawn props in the server now, you must first buy a door on the map. Once you purchase a door, you'll be able to spawn within that property's build zone. To view the size of the property's buildzone, type !buildzone after purchasing a door. Props that go outside of the buildzone will be detected and be pushed back into the buildzone automatically. This...
Hey guys! Been awhile since we've made an announcement so this will double as a list of recent patch notes and also the Valentine's announcement.
Starting off with the holiday, Happy Valentine's from all the staff here on TDRP! We've added the Gift Box back in spawn for you to claim your gifts from Cupid every few hours. Boxes of Chocolate have been added to dumpsters too. These chocolates are a rare consumable that gives you 200HP and 200Armor. So be sure to go Hobo and stock up on those sweets!
The Gift Box and Chocolates will stay on the server from now until February 15th!
​
In other news!
-RPGs have been re-enabled as raiding tools.
-Lumberjack has had their profits increased for selling wood.
-Ambulance has been removed.
-Fight Club weapons have been moved to all M9k. No more Madcows.
Be on the lookout for a possible double RP cash weekend in the coming months!
A small update today to help balance out the roleplay and make things more exciting.

Drug Buffs
-Increased the buffs from taking weed. 150 health with low gravity for 45 seconds.
-Increased the buffs from taking meth. 125 armor, faster run speed, and 15% damage reduction for 60 seconds.
-Changed the buff from the bong to 200 health and +150 armor.

Other
-Gang command centers that are too close together will now blow up.
-Increased prices on perks in the gang command center.
-Piano's no longer collide with players and vehicles.
-Radio's no longer collide with players and vehicles.

Event System
/eventhp <value> works now.
/eventarmor <value> works now.
added /eventfreeze to freeze event participants.
added /eventunfreeze to unfreeze event participants.
A small update today.

Mod
Members who apply for server admin will now be added to our new admin rank Server Mod. Server Mod will be our first step towards full Server Admin. With Server Mod, permissions and restrictions will be tighter than server admin, but will be enough to keep the server at peace. More applications will now start to get accepted to fulfill this role, as the permissions aren't too harmful if put into the wrong hands. Server Mods have full access to the TDRP Logs system. Apply today!

Money Printers On/Off
Because Nota can't keep control of his money printers while administrating, I've added an on/off switch for money printers. When the money printer is set to off, printing will be set back to 0% and no freon, paper, or ink will be used. The switch is located in the top right of the money printer menu.

Other Changes:
-Added back spawn protection from props and pickpocket swep.
-Disabled Car DM.
-Added Chop Shop NPC located at the tunnel in...
Due to low player turn outs and a general dislike from the community, we are back on rp_downtown_v4c_v2. As of right now, all systems that were used in rp_rockford_v2b have been added to downtown. This includes cars, mining, and lumberjacks.

For those of you upset from this change, I'm sorry. A good number of players just weren't able to play rockford because of it being so unoptimized. We hope that this map switch will also make that final improvement to attract newcomers to our community.
I've been receiving a bunch of dislike from the gang command center system. Today, I've decided to revise it. Here's version two:
v2
Gang command centers no longer use a point system, it is now based on money. Gang perks now cost money. Players are unable to add or remove the money inside a gang command center.
Gang territory perks have been removed. Instead, gang territories will now generate income which is given directly to the gang command center of the gang holding the territory. The money earned by holding territories will be used to buy the perks inside of the gang territory. In addition to buying perks, gang members will also be able to buy entities such as ammo crates and certain weapons from the gang command center. I also have some other ideas for gang only money printers and drugs, but we'll see how this stuff plays out first.
Now, when you capture a gang command center, you will be rewarded all of the money inside of that command center....
Today's update brings in another suggestion from you guys, and I think you're going to like it.
Mining
Mining works just like the Lumberjack system. The only difference is that you're mining rocks for ore. There are two types of ore you can obtain from mining. Iron ore is common and can be sold to the Ore Merchant. The second ore, gold ore, is rare. Gold ore can also be sold the Ore Merchant, but you won't want to. There's a second NPC near the mining location, which is the Key Craftsman. The Key Craftsman is able to take your gold ore, and smelt it into a loot key for you.
What are loot keys?
Loot keys are the keys required to open up the Loot Crate at spawn, which was introduced yesterday as a tease. The Loot Crate is our re-introduction of a CS:GO crate system. When the crate is opened, there's a chance for nearly every weapon in-game to be received. With that, there are also chances of receiving just tiny amounts of RP cash, or nothing at all. It's a gamble....