ThatDarkRPServer
I've been receiving a bunch of dislike from the gang command center system. Today, I've decided to revise it. Here's version two:
v2
Gang command centers no longer use a point system, it is now based on money. Gang perks now cost money. Players are unable to add or remove the money inside a gang command center.
Gang territory perks have been removed. Instead, gang territories will now generate income which is given directly to the gang command center of the gang holding the territory. The money earned by holding territories will be used to buy the perks inside of the gang territory. In addition to buying perks, gang members will also be able to buy entities such as ammo crates and certain weapons from the gang command center. I also have some other ideas for gang only money printers and drugs, but we'll see how this stuff plays out first.
Now, when you capture a gang command center, you will be rewarded all of the money inside of that command center....
Today's update brings in another suggestion from you guys, and I think you're going to like it.
Mining
Mining works just like the Lumberjack system. The only difference is that you're mining rocks for ore. There are two types of ore you can obtain from mining. Iron ore is common and can be sold to the Ore Merchant. The second ore, gold ore, is rare. Gold ore can also be sold the Ore Merchant, but you won't want to. There's a second NPC near the mining location, which is the Key Craftsman. The Key Craftsman is able to take your gold ore, and smelt it into a loot key for you.
What are loot keys?
Loot keys are the keys required to open up the Loot Crate at spawn, which was introduced yesterday as a tease. The Loot Crate is our re-introduction of a CS:GO crate system. When the crate is opened, there's a chance for nearly every weapon in-game to be received. With that, there are also chances of receiving just tiny amounts of RP cash, or nothing at all. It's a gamble....
More improvements to make everything simple and fair.

Changes
-Brought back introduction tutorial. Type /tutorial to open it.
-Max of 2 money printers per person.
-Players are no longer able to add ink, paper, or freon to other players money printers. (No more farming the whole servers printers)
-If your vehicle is sent to the chop shop while you're off the server, you will still get charged for it when you go re-spawn your vehicle.
-Lowered the printing sound volume from money printers.
-Added revives to DarkRP admin logs.
-Admins are now alerted when players remain in their NLR zone over an extended amount of time.

Taxi Driver
I have added the the Taxi Driver to the server. It's pretty simple, the taxi driver picks up his car from the transportation station and then waits for players to call for him. To call for a taxi type '/taxi' in chat. The Taxi driver can set his rate and lock the vehicle by clicking anywhere in the Taxi.

Loot Crate
As some of you...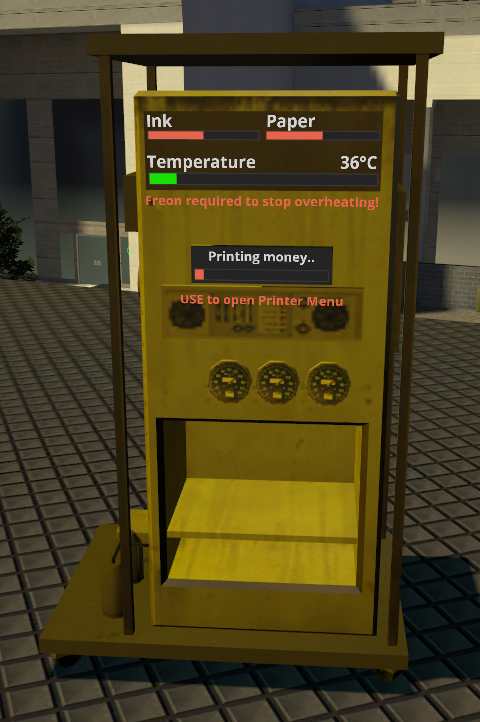 After adding all of the new content, we've received complaints that we went too extreme for both old and new players. This was expected, and we will continue to make adjustments to make sure everyone is happy.

Changes
-You no longer need to buy ink and paper in the F4 menu. You purchase it in the printer menu.
-Added a "Freon required to prevent overheating!" when there isn't freon added to the money printer.
-Meth labs no longer require inventory items. You still have to watch your timing, but when alerted to add ingredients, it'll take RP$ from your wallet and add the ingredients automatically.
-Weed plants no longer require inventory items. You buy all of the items in the weed plant menu.
-Black Market Dealer was removed and the F4 items were distributed among the Gun Dealer, Thief, and Locksmith.
-Lowered price of gun dealer vending machine to $500, set max to 2.
-Lowered price of rockets crate.
-Lowered price of Night Club entities.

As for all of the ingredients and...


From myself and everyone here at ThatDarkRPServer, we wish you all a happy new year!
Here's to another prosperous year of TDRP!

As a community, we've hit a small bump in the road in terms of player population over the past 2 months. To repair it, we've been re-working our gameplay and freshening things up during the month of December. Changes will continue to come in 2017, and hopefully we'll bounce back to where we once were.

Here's our first update of the year:​
Changelog:
-Ammo crates no longer run out of other ammo types first before others.
-CP's are no longer able to arrest other CP.
-Removed the gang territory pole capture limit.
-Gang territories will now start to uncap themselves automatically if a gang is inactive within its area. The timer on this is 20 minutes. To save the territory, the gangs members must walk within the radius to stop the capture.
-Made it so vehicles in the car dealer menu don't spin in the select menu. Click and drag to...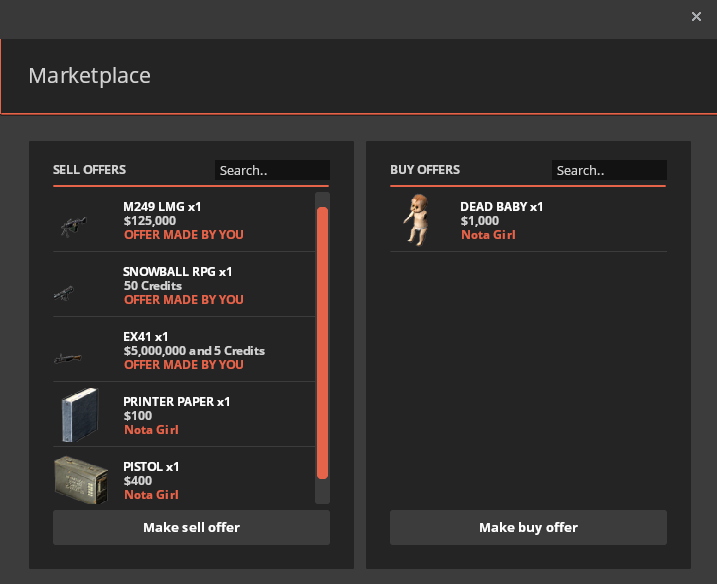 Our last update of 2016, and it's a big one.
Marketplace
Instead of players spamming /adverts and creating forum threads to sell their items, we now have an in-game Marketplace. Within the marketplace, players are able to sell their items for RP$ or credits. They are also able to create request offers for items they are currently seeking to buy. Listings are only active if the owner of the listing is online in-game. Once you disconnect, your listing will be hidden from the Marketplace until you return back online. There's currently a 5 listing limit on non-VIP members, and a limit of 10 for VIP members. To access the Marketplace, find the tab in the F4 menu.
Car Damage & Mechanic
Car damage is now active. Once your car reaches 0% health, it will ignite and can no longer be driven. To fix this, find a...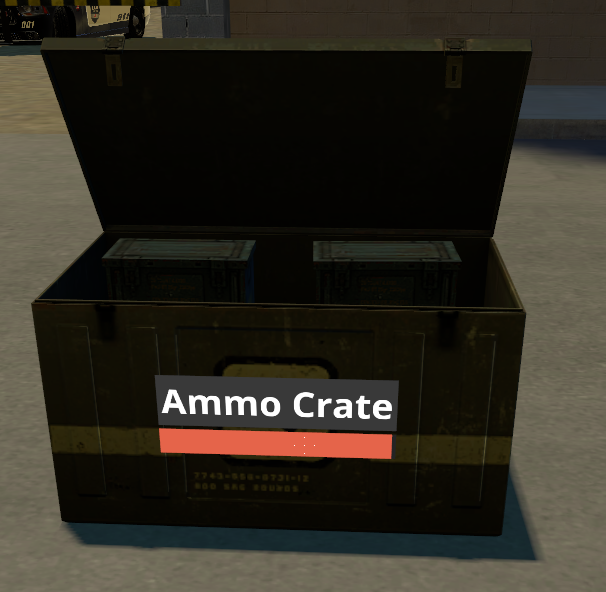 We're approaching 6 years as a community dedicated to a single DarkRP server. To keep things entertaining and alive, we have been continuously creating, modifying, and removing content. For the content that is removed, though, it's not always entirely removed. For example, the pills vendor. The pills vendor was removed several weeks ago, but the pills that were purchased are still in circulation. Same with old drug entities and other miscellaneous items. Now that we're aiming to revamp the gameplay and freshen things up, I feel now is the time to finally get rid of these items for good. There's no way for us to keep a fair and balanced gameplay with all of these old items still available to use. Let's be honest here, these items were never used anyway because everyone considers them rare.

Today, the following items have been removed:
-All old drug making entities.
-All old drugs except for the current rp_meth and rp_weed entities.
-All pills.

These items will remain in...
Now that Christmas is out of the way, it's time to switch over to our new map we've been talking about. RP_Rockford_v2b is a massive map with a ton of potential for RP. It's becoming a popular choice among serious roleplay servers and DarkRP servers. Now that cars are back, we need a lot of space to enjoy them. This map will provide that for us.
You shouldn't need to do anything to download the map. When you join the server, you will download the map and map resources. If for some reason you do run into problems, here's a link to them:
Map:
http://steamcommunity.com/sharedfiles/filedetails/?id=622810630
Map Content:
http://steamcommunity.com/sharedfiles/filedetails/?id=328735857
Let me know what you think!

From myself and everyone here at ThatDarkRPServer, we wish you a Merry Christmas!​
Another Christmas celebrated here at ThatDarkRPServer. The Christmas Box has became one of the most popular seasonal events. Everyone's always asking about it. Every year, hundreds of players rush onto the server within a small time frame and try their luck at the Chirstmas Box. Most leave with a box of chocolate, while a select few leave with something as mighty as an Orbital Strike.
This year, I've done something different. The Christmas Box is filled with our normal popular rares and useful items, but along with that, there's a whole new selection of collectible weapons in it. I've removed most of the common M9K weapons and have replaced them with those collectibles. These weapons will never go on sale in the /shop, and will only be obtainable from this Christmas Box. In total, there are 9 new weapons that will be added. As for the current possible rares, any rare that was...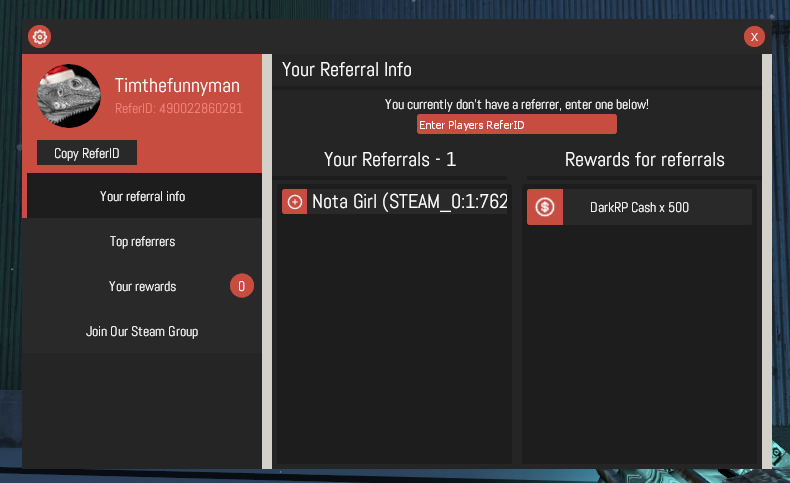 Just a small update today.

Steam Groups & Referrals
When players join the Steam group, they will be rewarded $5,000 RP Cash. If a player was referred by someone, they can add who referred them. The referral will then be rewarded for this in RP Cash. Type !refer in chat to bring up this menu.

Changes:
-You are no longer able to shoot while being tased.
-Donoradmins are no longer able to ban staff members.
-When gangs lose a command center, the amount of money they have to pay to respawn it will depend on how many members are in the gang. For example, if a gang has 5 members, it'll pay $5,000. If a gang has 15 members, it'll pay $15,000. Every member is worth $1k.
-Removed rPhone.