ThatDarkRPServer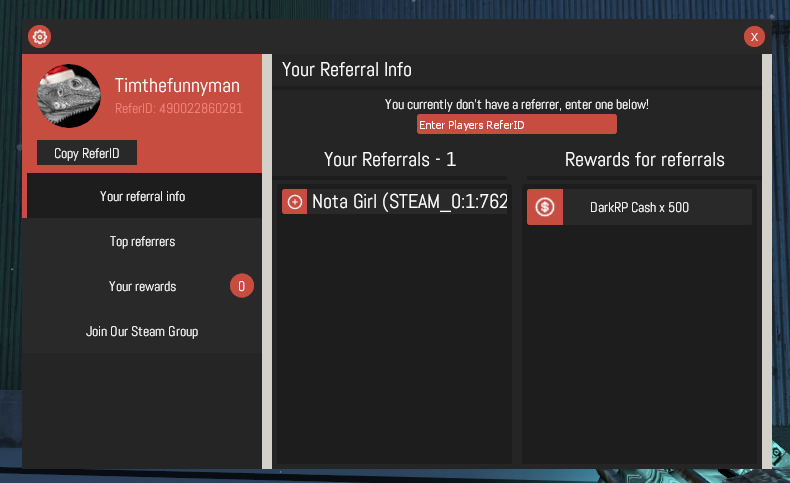 Just a small update today.

Steam Groups & Referrals
When players join the Steam group, they will be rewarded $5,000 RP Cash. If a player was referred by someone, they can add who referred them. The referral will then be rewarded for this in RP Cash. Type !refer in chat to bring up this menu.

Changes:
-You are no longer able to shoot while being tased.
-Donoradmins are no longer able to ban staff members.
-When gangs lose a command center, the amount of money they have to pay to respawn it will depend on how many members are in the gang. For example, if a gang has 5 members, it'll pay $5,000. If a gang has 15 members, it'll pay $15,000. Every member is worth $1k.
-Removed rPhone.
​
Tomorrow, Friday the 23rd, Santa will be visiting TDRP. He will hop on the server for small game events and gift giving. He's expected to land on a rooftop near the town Christmas Tree around 7-8pm CST.​
Be there!​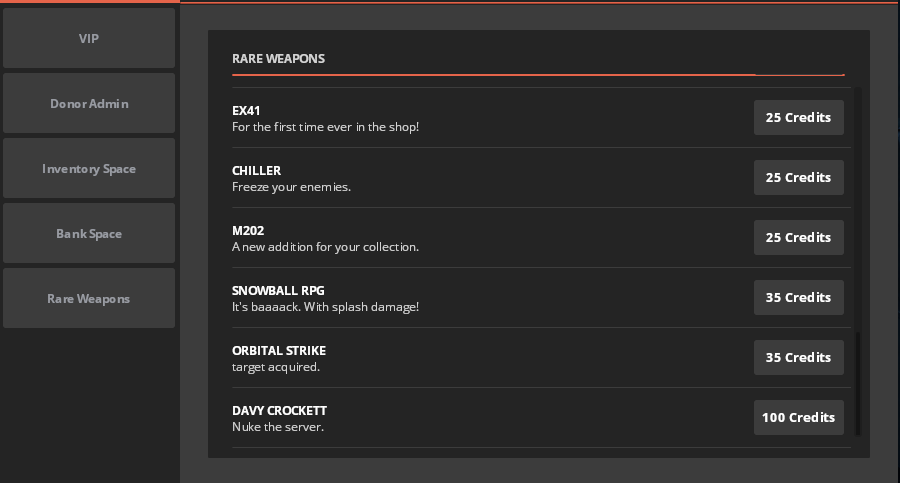 ​
It's that time of the year again. To complete our full list of Christmas sale items, I have added some of the most popular rares of the year to the /shop. Pick them up while you can!
M202 & EX41
For the past few years, these rares never found their way to the shop. For the first time ever, you can now pick them up.
Snowball RPG Change
-Reload timer reduced from 30 seconds to 5 seconds.
-Snowball's now have a splash damage radius.
Gang Command Center Update
-Removed buff radius on command center. Buffs are now given across the whole map.
-Added faster keypad cracking buff.
-Added faster money printing buff. (1 minute faster)
-Gangs who lose their command center will be required to pay a $10,000 penalty to be able to spawn another.
-If a gang owes money for their command center, then no one inside of that gang can leave/disband the gang until the debt is paid.
-Gang officers now have the option to remove their command center. Once the...
Over the past few weeks to months, gang raiding/basing has gone down in popularity. With recent updates, we've removed a lot of its purpose for even wanting to do it.
Today, it's time to make bring back its purpose. I've been working on this idea for the past few days, and this should be the start of something good.
I'm calling them
Gang Command Centers
. Now, when gangs are playing/basing, they will be required to spawn a Command Center. Gang owners and officers can spawn them from the gang menu. The Command Center should be located as your home of operations. Once spawned, the only way it can be removed is if it is captured by rival gangs. If a gang does not have gang command centers spawned, it will not be able to participate in command center captures or territory captures. If this isn't enough to enforce their use, I'll continue adding restrictions.
How does it work?
When a rival gang is ready...
​
From now until January 3rd, nearly everything for private classes will be on sale as part of our yearly Christmas Sale. There's a ton of good deals, so pick them up while you can!
A quick overview over some of the popular options:
$50
$40
for a class with a name of your choosing, a color of your choosing, and a default model of your choosing.
$40
$25
per additional player slot
$10
$5
- Extra default Garry's Mod model onto class
$150
$100
- Custom model from the Steam Workshop.
$40
$20
- Change ownership of a class.
$25
$20
- Spawn with a SMG of your choice.
$30
$20
- Spawn with an Assult Rifle of your choice.
$35
$25
-...​
As promised, we're going to introduce some new elements to the server.
Safety Deposit Box
Now that drug making and printing farming require inventory items, we have decided to create a second inventory system to store items that you aren't using on a regular basis. Everyone now has the ability to move their items to an item bank. We're calling it a safety deposit box. Normal users have 30 item slots, while donors and VIP members have 50 slots.
Tasers
Tasers are back again for all Civil Protection and SWAT classes. We had a lot of issues with tasers in the past, but this one, suggested by, Locosuperz, should solve most of those past problems. When tased, players will be frozen in place flailing their arms around. No more ragdolls. Tasers will allow Police classes to forcefully stop players and arrest them.
Chop Shop
If you played TDRP2, you were familiar with the chop shop. If you aren't...
Money Reset
I know, I know, but hear me out.

With the re-introduction of vehicles, it brings a whole new selection of "late game" content. Vehicles will be the thing everyone is aiming towards. The issue is, after switching things up with the new money printer, it creates a problem. Before, it was easy to make stupid amounts of money without any effort at all. Now, it requires much more time and a bit more effort having to watch the freon canisters and find/buy them. The reason I changed the money printers is because I want people to have a choice of how they wish to make money. Sure, there's different jobs to do, but none of them came close to making the kind of money sitting afk in a base would make.

If I added cars now without resetting wallets and banks, the current players would be able to buy up cars immediately. New players would have to spend much more time than the current players did to make the amounts of money they made. That isn't fair at all. This money...
RP_Downtown_Winter
To get everyone in the holiday spirit, I have changed the map to rp_downtown_winter. This was the Christmas map used last year. For those that kept spamming me "Christmas 2014 map!!!" That map is too small.
Today's update includes a lot of new features and gameplay changes from what you're used to. Give it all a try before voicing your opinions on it.
Drug Changes
I have completely replaced our drug making system with the TDRP2 system. We now have two drugs that can be created: weed and meth.
The process of growing weed is basically the same. Plants do require light now, though. Plants can receive light by either being grown outside or in a building near a light. The only real usable difference is that you will have to inventory items to add it to the plant pot. Press "e" on it to open up the GUI.
The process of cooking meth is much different. Before even being able to cook meth,...
If you can see this message, that means your DNS has updated and you are now able to view the new TDRP forum. Things are a little messy, but as the week progresses, everything will take shape.

Let me know what you think so far and report any issues you experience below.