ThatDarkRPServer
I've been very hesitant to do it, but I'm officially announcing the closure of our game server. That DarkRP Server was established in early June of 2011 by myself and a few friends. For a community dedicated to a single DarkRP server, it's amazing to me that I'm posting this nearly 7 years later. We've been through so much together to keep this community going. For every high, there was a low. Looking back at it all, I enjoyed every minute of it, and I hope you did too.

Instead of rambling on about our history, I just wanted to personally thank every member of this community. You all are what kept this project alive and going. Whether you helped us administrate in-game, manage the community, or trolled the server in-game, you contributed to the success of this community.

I wish all of you the best of luck and success in your lives and future endeavors.

Love,
Tim

The forums will remain live for the foreseeable future for everyone to check back in and catch up, it's the least...
As discussed yesterday, we've made adjustments to the server in hopes of creating a more viable gameplay that we can build on. Essentially, we're down to the basics.

Changelog:
-Wiped inventories, banks, wallets, gangs, resources, etc.
-Replaced hitman system with default DarkRP system.
-Removed low HP effect.
-Removed Hunger system.
-Removed cooking.
-Removed food farming.
-Removed night club owner.
-Removed hoverboards.
-Removed private class system for now.
-Removed CSO1 weapons.
-Removed GTAwards.
-Lowered the price of drug selling.
-Lowered inventory max item count to 20, it's now 30 for VIP+.
-Added the RPG to the Black Market Dealer for $3 million RP$. It's still in the shop as well.
-VIP has been changed to a one-time purchase.
-Added the pocket weapon to pickup printers and other essential items while raiding.

Rule Changes
We've made more adjustments to our rules to be even more relaxed. We're removing most job based restrictions and allowing for a more...
Our staff meeting along with public discussions went well, after an hour and half of input, we've set a basic revamp list of what the current community feels is necessary to continue on.

Economy Wipe
Everyone agrees its best to reboot the economy. All money and inventory items will be wiped.

Addon Removals
To improve server performance and bring TDRP to some sort of gameplay that makes sense, several addons and systems will be removed. Those systems are:
-Hunger system
-Cooking and Farming
-Hoverboards
-Hitman system (replaced with default DarkRP system)
-Bounty system
-CSO1 weapons and other novelty rares.
-GTAwards
-Night Club Owner

Adjustments
-Adjust item prices or printer print rates to be balanced with each other.
-Add RPG rockets to the rockets crate.
-Introduce default DarkRP pocket swep to pickup printers and other entities temporarily.
-Re-introduce crafting on a more simpler scale. (This will happen later than everything else)

Rules
Once...


Printers Update
We're making another adjustment to our money printers. There's now three printers, a Rusty Printer, a Premium Printer, and an Overclocked Printer. Rusty printers are for everyone, while Premium's are for VIP+ members. Overclocked Printers are also for everyone, but there's a catch.

Overclocked Printers have the highest printing rate, but have a global limit. For every 5 players in-game, the maximum Overclocked Printers in supply are 2. So, if there's 30 players online, that means that the global limit of spawned Overclocked Printers would be 12. There is no maximum per player, so all 12 printers can be owned by one person. It's an interesting idea and we're going to see how it goes.

The printing rates on the new set of printers are lower, so don't cry. Previously, the profits earned from money printers were just silly and caused inflation issues.

Armored Bank Truck
The Armored Bank Truck is our newest addition, similar to the Transport Truck, but...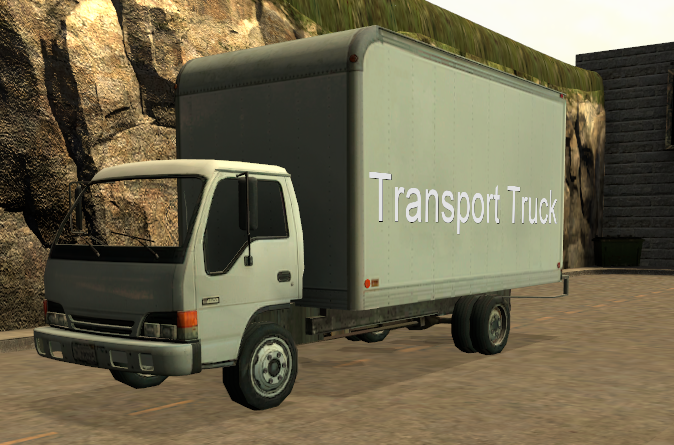 Transport Truck Looting
I had this idea a week or so ago, and I thought it'd be a great addition. Every hour, a Transport Truck will spawn on the map and follow a path through the city. You will be alerted in chat when the truck shows up. Inside the Transport Truck are cases, and each time a truck enters the city the quantity of cases and items inside are different. Grab the cases off the truck and open them up. You'll find money, drugs, and weapons inside. I've gone ahead and introduced three new weapons with this as well, the MSBS-B assault rifle, an M95 sniper rifle, and a QBS-09 shotgun.

How's that for something new?
Offline Tax
For quite some time, we needed a way to tax some of the money that is obtained in-game. Today, we're starting the Offline Tax. It's pretty simple, every 24 hours a player is inactive, that player will be taxed 0.5% on their bank account. Overtime, this will help bring some...
A few more changes in-game.

Adjustments
-Removed AVA Pistols. They became novelty items and went unused.
-RP Name has been disabled. We'll see how people treat this.
-Lowered a few Hoverboard prices. Cheapest Hoverboard is now $500k.
-Fixed Traffic Cop model.
-Fixed AK47 ammo.
-Fixed Marketplace from last night.
Converting CS:S to CS:O2
Starting today, we're going to start consolidating our addon content. We have so many addons on the server, especially weapons. Some of that content is so old and buggy, it's just not efficient to use it anymore. As a start, I have converted main CS:S weapons to CS:O2 weapons. They're sleek, modern, and optimized. That's just what we need. Moving forward, we'll work together to discuss what content is unused or useless and remove what we don't need.

With this change, that means that all previous CS:S weapons you have in your inventory will no longer work. Please discard these items from your inventory.

Drug Dealer Split
The Drug Dealer class has been split into two separate classes, Weed Dealer and Meth Cook. The class mins have been raised and so have the entity limits. Weed Dealers can grow up to 6 plants while Meth Cooks can run 4 meth labs at once.

Private Classes Price Change
The base price of a private class has been changed to...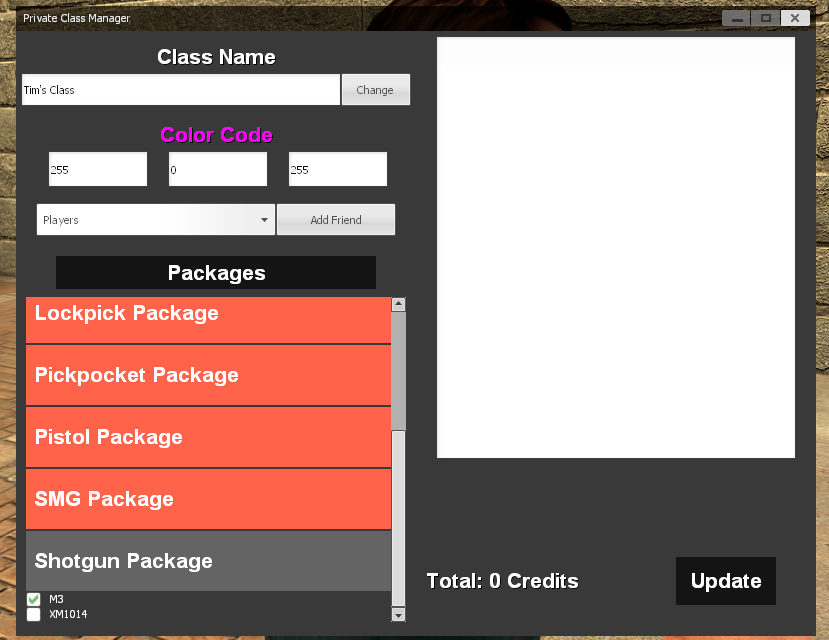 Everyone's begged for the return of Private Classes. Back in December, I decided to finally accept them back, but we needed an easy system to manage them and to make sure they aren't as overpowering as they were before.

Private Class Manager
Everything about your private class is managed through an NPC. To create a private class now, all you'll need to do is open the Class Manager menu and purchase the base package. Reload that menu and you'll be able to change the class name, color, add friends, and add packages on the fly. Currently, there are packages to add a pistol, SMG, shotgun, assault rifle, lockpick, pickpocket, and keypad cracker.

Each package can be modified as well. Every CS:S weapon has been added to the system. So, let's say you purchase the pistol package and select to spawn with the Desert Eagle. After playing for a while, you want to try another pistol. You are now able to open the menu back up and swap the Desert Eagle for a Glock. The next time you...
Hunger
Yes, I did it. I brought back the experimental hunger system. I played on several jobs last night just to test their potential usage. Both the Farmer and Cook classes are basically useless without some sort of requirement to make people eat. So, we have the experimental Hunger Level again. Once your Hunger Level reaches 10, your run speed will decrease. Once you hit 0 Hunger, you'll slowly lose health.

Fruits and vegetables, along with cooked meals provide points to restore your Hunger Level.

Test it out, let me know if the level moves too fast, and we'll balance it some more.

Police Test
Due to popular request, the Police Test has been re-added. With the test, once players successfully pass the test, they won't ever need to take the test again and can join the Police jobs without waiting on player votes. Before taking the test, please review the server rules. If you fail to pass the test, you must wait 1 hour before being able to take it again....
Enhanced Death System
I saw this on GModStore and wanted to give it a shot. The enhanced death system adds a bunch of unique features to dying. Now, when a player dies, a corpse will be left behind. Leaving a corpse behind allows Police Officers to figure out how that person died and by who if someone did kill them. Medics are paid every time they clean up a dead corpse on the street. Hobos, Dogs, and Cats can eat dead corpses. Bloods and Crips members are able to pour gas on the dead corpse and making the body disappear.
The system adds a lot of new features to the gameplay that I wanted to try out. Check it out and let me know what you think.
Gang Money Rewarded
The gang money accumulated in December has been rewarded to the top three gangs in the leader board.
Here's the payouts:
420 Gang #1: $102,000 per player
Leviathan Gang #2: $71,655 per player
THF Gang #3: $13,433 per player
Here's the top 10 for December 2017:...